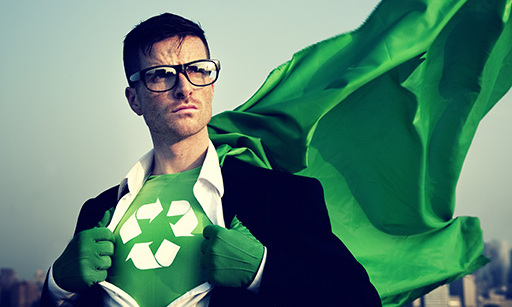 Written by
,
Recycling is trending. Thanks to high profile campaigns such as Sir David Attenborough's unforgettable Blue Planet II, we are now constantly reminded to re-use, recycle and generally make more sustainable choices.
Recycle Week 2019 (23-29 September) is organised by WRAP under the Recycle Now brand. The aim of the week is to encourage the public to recycle more, by demonstrating the benefits of recycling items from all around the home. The theme this year is 'Recycling: its in our own hands', which has us thinking about what we can do.
Perhaps the market research industry isn't a huge culprit, we're not handing out plastic straws, single use packaging or carrier bags. However, here at Gusto we do go through a lot of the following:
Paper (surveys, discussion guides, notes, flip charts etc)
Post-its
Plastics associated with respondent catering at our in-house viewing facility
Qualitative researchers can also consume a lot of convenience products when out on the road conducting fieldwork e.g. plastic bottles, food cartons, crisp bags, etc (not sounding very healthy here are we?!)
So, how can we tackle these things? Let's start with the paper. Of course, one thing we can do is use less paper in the first place. However, there are times when this is just not feasible so we need to make sure what we use can be recycled. Recycling paper is easy, but we have to be very mindful of confidential documents – anything containing any respondent data, confidential client information and internal business/employee information must be securely destroyed when no longer needed. At Gusto we take this very seriously and use a professional shredding company – but it's important to make sure they recycle what they shred. Our supplier does this, but it is worth checking. Not all local councils for example will accept shredded paper as it is harder to process.
What about the ubiquitous Post-its? Due to the adhesive strip they are difficult to recycle (according to Recycle Now they cannot be recycled and should be separated out from other paper products). What are some alternatives we can consider, for example for use during focus groups?
Do we need the notes to be sticky? Could sort cards/small pieces of paper be as effective?
A pin board – we have a large pin board covering one wall of our viewing facility and we have seen magnetic boards used to similar effect elsewhere
Use Blu Tack to stick notes on the wall – at least this can be re-used multiple times and the paper can be recycled.
Next, we need to think carefully about the food we provide for respondents and ensure this comes from local, responsible sources. In the past we have been focused on the food itself, when it can be delivered and the budget. Now we also need to make sure that the packaging is recyclable. Hopefully in the future decisions like this will become second nature for us all.
And as for those of us used to buying junk food on the way home from fieldwork, we can plan ahead and make better choices. Buying fresh fruit instead of a chocolate bar would be better for the environment and our waistlines!
Like this article? Follow us on Twitter.